With more than 50 years of providing solutions for die cutting and stamping applications, Mathias Die Company proudly introduces Mathias Stamping & Die Cutting Press Solutions. MDC Die Cutting Presses are versatile, efficient, and designed to be dedicated to projects or lines of products. MDC Presses are capable of running multiple Mathias Die Company engineered tooling solutions to convert a wide variety of input materials to finished products. Customized material handling and other features can be added to an MDC Press to best fit your production needs. Contact us to solve your machined tooling applications today.
LP Die Cutting Press
Features
Versatile cutting press using multiple Mathias flatbed
tooling solutions ranging from Matched Metal
Tooling, Steel Rule Dies, Thin Plate Tooling or a
combination of these technologies
Efficient production capabilities with custom die cutting options to fit your production requirements
Pneumatic roll feed options available
Minimal tool set-up time with quick tool set-up
features
Clean room cutting system
Mathias Engineering Services available to customize die cutting presses to fit your production needs
Made in the USA!
Specifications
100% pneumatic, no electrical power needed
Two hand anti-tie down actuation
Customizable to enhance production efficiencies
4 post ram for precision
11" daylight
3" stroke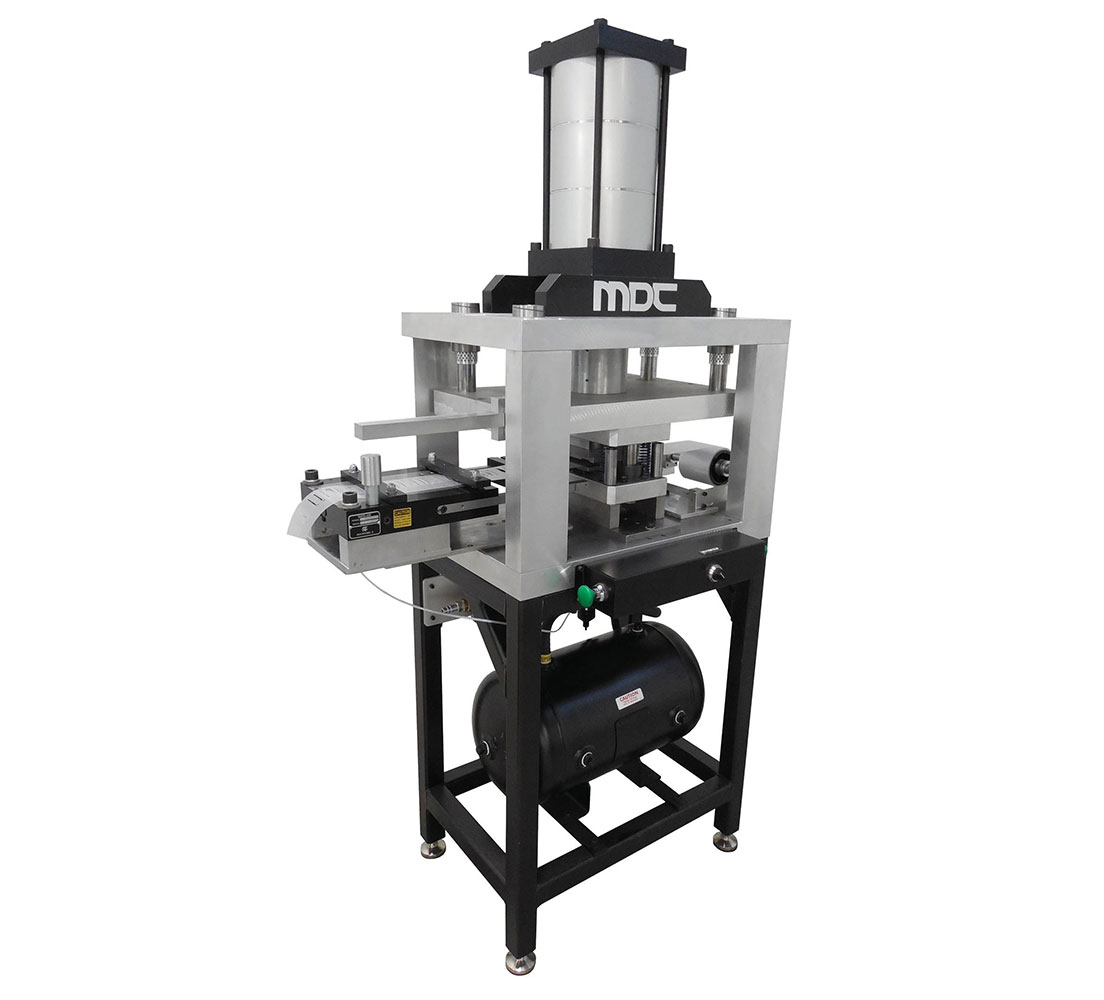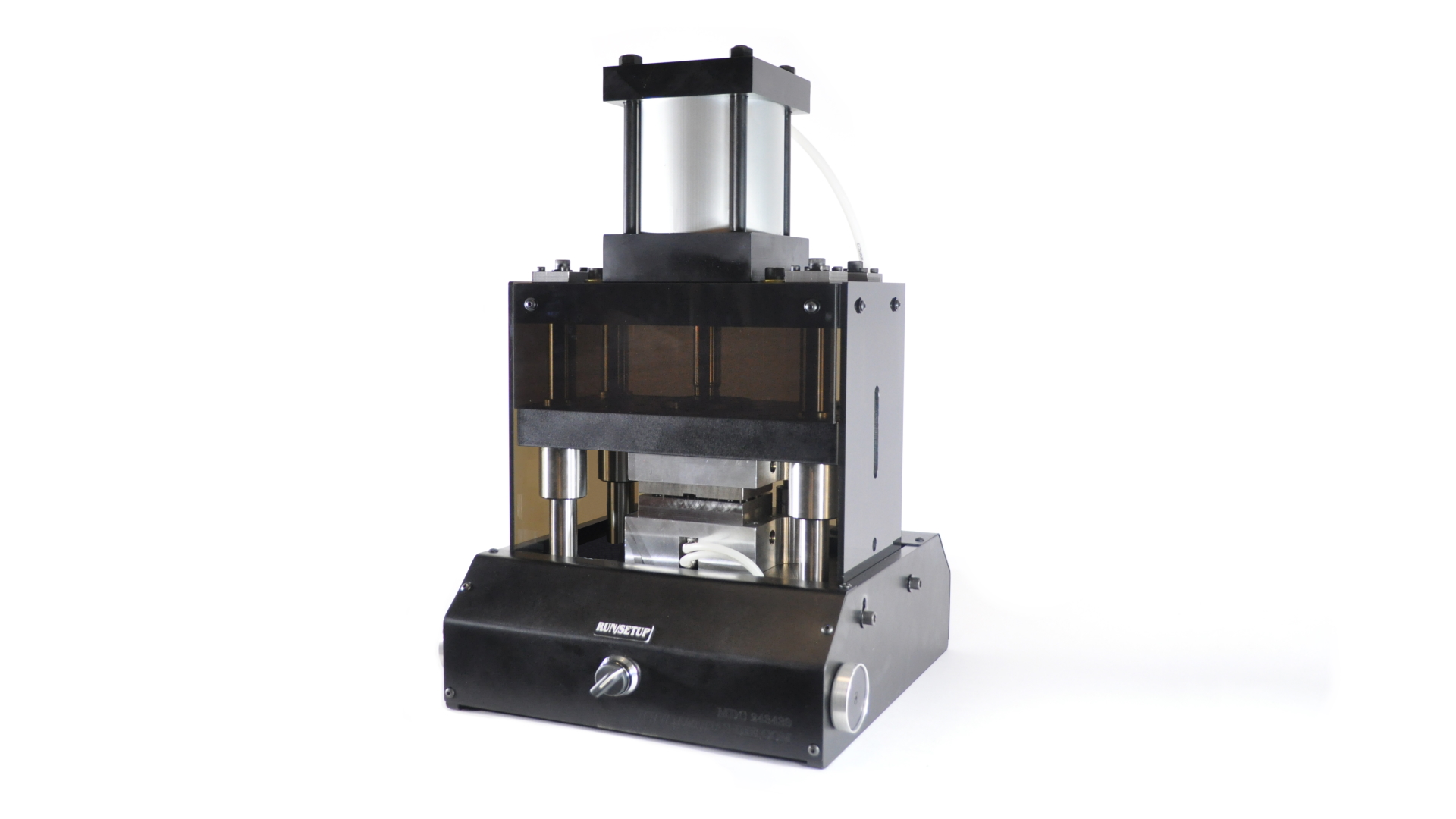 MDC Table-Top Press
Specifications
2-Ton pneumatic press
Two hand anti-tie down actuation
Customizable to enhance production efficiencies
4 post ram for precision cutting
Up to 4" of daylight
3" stroke
Benefits of Stamping & Cutting Die Presses
Stamping and die cutting presses are other worthwhile options for machined tooling applications and offer many benefits.
Precision and Accuracy: Stamping and die cutting presses are designed to provide precise and accurate cuts or shapes — consistently. They ensure uniformity and repeatability in the production process, which make them great for longer-term projects or a whole line of products, resulting in high-quality results every time. The press applies controlled force and pressure to the material, ensuring precise cuts and shapes according to the specifications of the die.
High-Speed Production: Die cutting presses are capable of high-speed operation, enabling efficient and rapid production. The presses are designed to handle high volumes of material and can quickly process large sheets or rolls of material. Speed is integral for industries that require mass production, allowing for increased productivity and shorter lead times.
Versatility: Stamping presses can handle a wide-variety of materials. They can be used with various materials such as paper, cardboard, plastics, textiles, rubber and metals. Contact our team to learn more about the many kinds of applications our Mathias stamping presses can accommodate.
Cost-Effectiveness: Die cutting presses are cost-effective solutions for machining tooling applications. Once the die is created, the press will function with minimal changes to the product or the tool, except for limited, regular maintenance or sharpening. With an efficient tool that is reliable, your operation will increase in production speed and reduce downtime.
Design Flexibility: Stamping or die cutting presses allow for flexibility in die design. The dies can be customized to create intricate shapes, patterns, or perforations as required by your specific application and need. This flexibility enables the production of complex components or products with precision, enhancing design possibilities and keeping your team's vision at the very forefront.
Reduced Manual Labor: Stamping or die cutting presses automate the cutting or shaping process, reducing the need for manual labor. Once the material is properly set up and the press is adjusted, it can operate continuously with minimal human intervention. This reduces labor costs and increases efficiency by eliminating repetitive manual tasks.
In summary, stamping and die cutting presses provide precision, speed, versatility, cost-effectiveness, and much more in machined tooling applications. Contact Mathias Die to learn how an MDC Die Cutting Press can be an efficient cutting solution for your application.