The D'Slugger 3 is the newest and best D'Slugger Scrap Removal Machine yet. MDC D'Slugger Machines have been used by die cutting facilities for over 20 years, improving efficiencies in the die cut scrap removal process. The D'Slugger 3 is a more robust, vastly improved, D'Slugger Machine that will help you take your scrap removal operation to new heights. The D'Slugger 3 provides a much easier set-up and more consistent operation, greatly improving its abilities and efficiencies over previous D'Slugger models.
Manual scrap removal processes have a large effect on the efficiencies and margins of the products you produce. Manual scrap removal can increase your labor costs and extend project deadlines with delays in getting products shipped to your customers. Employee ergonomic issues are also associated with the prolonged repetitive motions of manual scrap removal.
The D'Slugger 3 Machine will help you improve your production throughput allowing you to more quickly ship products to your customers resulting in improved customer satisfaction and profitability.
Features
Robust design providing improved, consistent, operation
Quick, easy, set-up process. Set up in under 5 minutes
New design offers improved efficiencies and can be utilized for more applications than previous models
Designed to run Mathias Die custom D'Slugger Tools engineered for each application
Utilize your existing D'Slugger Tools
Full pneumatic design with minimal maintenance required
Heavy duty/lockable casters for work-cell to work-cell portability
On-board air blast nozzle
Scrap collection chute and receiving
Made in the USA!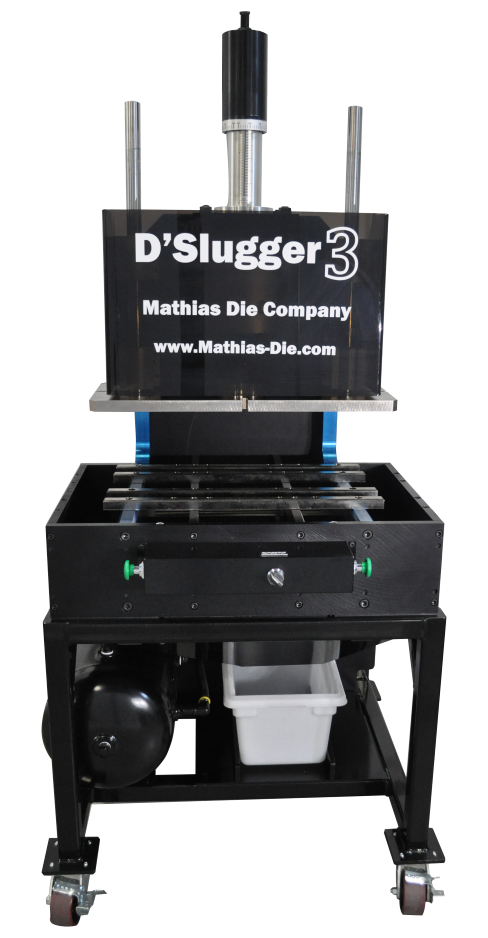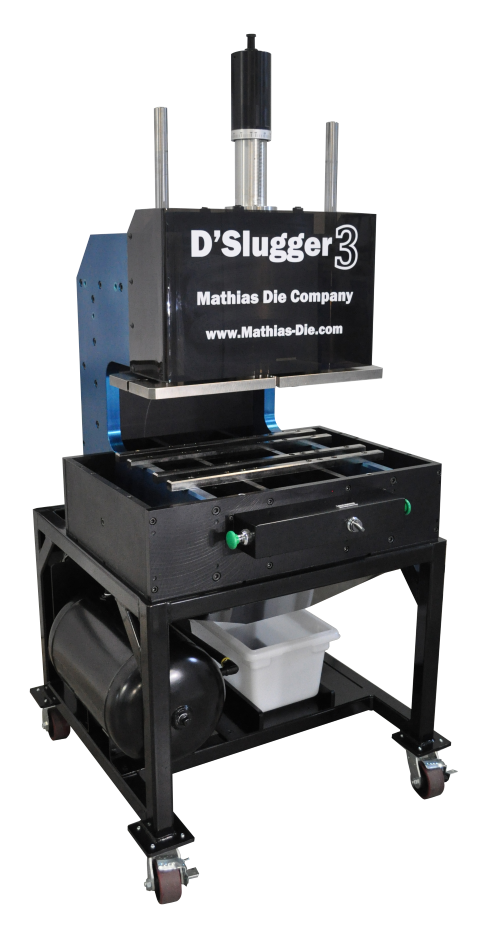 Specifications
100% pneumatic, no electrical power needed
2 Tons @ 100 PSI
Two hand anti-tie down actuation
2 post guided ram and platen for precision parallelism
Maximum part size is 20 x 30
Footprint 36″x32″x78″